[This is for the women of Stephens College, specifically those there the 1995-96 year, all current graduates everywhere entering the real world, and to the entire LGBT community.]
Twenty years ago I was a senior at Stephens College, the second oldest woman's college in the country, and resident director of the freshmen (or freshwomen as we called them) honor's dorm, a dorm which I actually lived in my previous two years (first as a newcomer and then as a resident assistant).
Early in the school year, there was an event that has gone down in history as the 'chalking incident.' It was National Coming Out Day, and a group (some gay, some straight, all my dearest friends) had written words of encouragement in chalk on the sidewalks within the school's grounds. Things like, 'It's ok to be gay!' 'Come out, come out whoever you are!' 'National Coming Out Day!' 'You are not alone!' were written in chalk – just as it had been done in the past and just as other organizations had done. From Sororities during rush, to Student Government during elections, there had been no censoring during my school years, until Oct 1995. I wasn't a part of the group to chalk, as I was either studying, memorizing lines or making out with a guy – maybe all three.
Everyone awoke to the positive messages, including myself, and went to classes just like any normal day. But by 1pm, we walked the campus to find the custodial staff power-washing the sidewalks with bleach. It was completely jarring, demeaning and disgraceful. You see, there would be a Board of Directors meeting later that day, and apparently it wasn't in good taste to have the sidewalks written with homosexual phrases. The administration attempted to sidestep the issue at hand, but it was quite apparent what was going on.
We were outraged, humiliated, and sadden. We met with school officials (except for the President, as she wasn't 'available') to discuss this issue and more, but no one had an answer or an apology.  It was fuel to the fire of the already angry student body after the announced master plan which not only directly affected majors, housing, and faculty but also students. So we protested in front of the President's home one evening, and she came out (no pun intended) to talk with us, only to find that we had invited the press as well.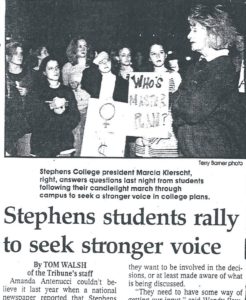 I didn't plan on being at the forefront of it all. I wasn't even a part of the actual chalking, but I knew in my heart of hearts that what was happening was wrong. I didn't think that out of all of the amazingly, well-spoken, courageous women standing next to me, side by side, that it would be me that they'd look to. But there I was, the next morning on the cover of the Columbia Tribune, standing in the front, with the President trying to explain herself. The next day the Director of Resident Life said that the President wanted to meet with me to discuss everything that had happened. Wow! Was this the moment?, I wondered. Knowing that she'd have her associate there, as always, and that it could easily be a she said / she said, I brought in a third party, not a student, to be there with me and to record the conversation (ok, maybe that was overkill, but you if you knew this President, you'd have been wearing a surveillance camera and had a van outside listening).
Needless to say, she wasn't pleased. And she was even more displeased when I started the conversation, as she thought I was there to apologize. Well, you can imagine my reaction and my refusal to be sorry for anything that had transpired on behalf of all students, and that it was she who should be apologizing. She then stood up, carried my backpack out of her office and said that if I didn't leave immediately that she'd call security to take me out, and that I should think about my actions or I'd be fired from Resident Life or kicked out of school.
The days that followed had me meeting with a number of teachers, department heads, and more. Some I had known personally, some I never even took a single class from, but all showing their amazing support. One instructor, in particular, Dr. Scruggs, gave me the encouragement that I needed to finish my final year with my head high. And I did, we all did. And when we walked that stage at commencement, months later, with some thinking it was all behind us, we left our mark. We cheerfully accepted our diploma, and happily shook the President's hand with a piece of chalk in tow. She left that day with a bucket full, a little powder on her robes, and a reminder that a Stephens Woman is both seen and heard.
But before that day, Dr. Scruggs spoke at our Baccalaureate ceremony. And then days later, he sent me the speech, that I've kept for the past 20 years, as a reminder of our 'heroic behavior,' as he called it. But to me, and others, it wasn't heroic at all. It was simply the right thing to do. And it reminds me to this day how fortunate I am to have had mentors in my life that supported and challenged me during a time of turmoil. Also, that by standing up to outright bigotry, you are standing up for hundreds of others.  So if each of us stood up, imagine what statement could be made.
Below is Dr. Scruggs' note to me, along with his speech. Enjoy.
---
May 16, 1996
Dear Laurie,
Here is something for your 'scrapbook' of your senior year at Stephens.  There is a lot of you in this text.  Thank you for your strength this year.  It meant a lot to me and many others.
Keep in touch.
Peace and love,
Donald L. Scruggs, PH.D.
REMARKS PREPARED FOR PRESENTATION AS THE HOMILY FOR THE BACCALAUREATE SERVICE FOR THE CLASS OF 1996,
STEPHENS COLLEGE, May 12, 1996
By Donald L. Scruggs, PH.D.
SOCIAL SCIENCES AND HISTORY PROGRAM
                This morning is the time to reflect on the spirit, the necessary complement to the intellect; that which gives meaning to our lives, the principles upon which we base our actions; that which instructs us to know when it is time to stand still, reflect on the givens in our lives, to learn who we are and what we can be; that which instructs us when it is time to move, to reach for the stars, to transcend what we take to be the securities of our immediate lives, to seize the moment, to take real risks to make this a better world, regardless of what such actions might do to our personal futures.
The spirit is informed by the intellect, a process we on the faculty have helped you develop; but it is the honing and refining of the quality of your spirit which gives or takes meaning from your lives.  And it is important to know that a spiritual life is not just an individual matter; it has a collective dimension.  It is the interplay between the two I want to talk about with you this morning.
You came to this academic community with individual histories, abilities and goals.  Most of you came here four years ago, others several years before then.  Most came from high school, took five or six courses a semester and are leaving, much to your parent's delight, in the standard four years.  Others of you came here well past your high school years, with full-time jobs, with families, many as single mothers; you took one, maybe two, courses a semester for many years; or you've taken courses every Friday and Saturday for at least three years; you persevered and today you will join with the rest, making yourselves and those who have supported you proud of your achievements.  And proud all of you should be.
During your time here your personal histories, your intellects, your spirits, have been enhanced and refined, but they have also been blended into one, which the Alumnae Office and Association will forever call the Class of 1996.  You, however, know it as more special than that; it is a common spirit, which cannot be bound by the name given it by this institution.  It takes its name from each of you, from Brenda, Kathy, Tameshia, Beth, Laurie, Kate and a host of others.  And, for the residential students in particular, that spirit has been severely tested from the day you arrived until now, and you have not been found wanting.
For the past weeks many of you have told each other that you are about to enter the 'real' world.  I'll bet even your family members have said that.  You should know better.  If the world of Stephens College is not real, it will do until something 'more real' comes along.  You have known, for instance, joy, sorrow, violence, tenderness and love; you have participated in the most massive set of changes in the life of this college since it moved from being a two-year to a four-year institution.  You began under the administration of Patsy Samson and Mary Kitterman and you leave under that of Marcia Kierscht and Bob Badal.  In between you witnessed the exodus, some voluntary, some forced, some by death, of a large number of your teachers, librarians, and administrators.  I shall not read the list of their names; my colleague Alan Havig did that for you in his toast at the Senior Banquet last week, and I, for one, am deeply grateful he did; it is, indeed, a distinguished list of highly valued, treasured, members of this community; some of their positions have been filled, but precious few of those colleagues can be replaced.
Too, you have experienced a massive reorganization of the curriculum.  Programs were eliminated during your time here, others were severely truncated; new programs were introduced.  The impact of all this on your degree programs was great, but you persevered and prospered.
As if those events were not important enough, your spirit was most severely tested during that particular set of events to which we have given various names; the great chalking controversy, the national coming out day flap, the fight for student rights, are among those we can mention in polite company.  I'll bet, for the rest of your lives, when the term 'chalking' is used in your presence, you will smile, because it will invoke a unique memory of this academic year.  I know it will for me.  All of you were tested, and all of us were enriched by those who met the challenge head on, rising to levels of spiritual excellence for which they should be proud all their lives.  Some of your classmates were demeaned, demonetized and degraded.  But, and most important, they were also supported, loved, and shown their worth as human beings by many present in this room today.  Twice during those trying days, I had encounters with members of this class, the memory of which will remain with me as one of the high points in my life.  On separate occasions two of your classmates sat in my office, one in rage and one in tears over what was happening to them and some of their peers.  I cred real tears of sorrow and joy with them; sorrow for the pain bigotry brings on its victims; joy over the strength of character, indeed of spirit, those two women were showing me.  They stood their ground and fought hard and well for justice and basic rights.  We all should be very proud of them because they showed all of use, once again, that liberty, dignity, and a sense of self-worth cannot be easily won or maintained, BUT that we must try, lest the reality of love, justice and basic human decency be lost for us and our posterity.  They, and through them you, learned that those values must be refined generation in and generation out in order to meet the challenges presented to us by those who would take from us our hard won freedom.  Members of this class did not fail that test and for that you can be proud; for that all of our spiritual lives have been enriched.  Those of us who remain will be always grateful for the witness many of you bore to the truth which sets us free from intolerance and bigotry.
One last thing must be said about the care and nurturing of the spirit I have been talking about.  The great institutional changes and the great struggles for rights you have engaged in have been the most important part of your education here.  Yes, you've learned to write well, to probe the depths of the human experiences, to practice the scientific method, to dance beautifully, to act professionally, but that all was prologue to the learning forced on you by the social changes and challenges you have all experienced.  Those periods of change and turmoil were the great teaching and learning moments of your college career.  It was in meeting the challenges they presented to you individually and collectively that your spiritual lives were enlarged and enriched.
But, and remember this, you will have to relearn this lesson, over and over again.  It is not easy for me to tell you that the more things change, the more they remain the same, because it reminds me how many times I've had to say it to myself.  It is true, nevertheless.  Rights always must be fought for and defended, because there are always those who will attack them and try to take them away for the sake of the few who are in power.  But, your experiences during your time here have strengthened your spiritual lives so you can face the challenges and turmoil in the world you have inherited from us.  But, this wisdom was not our creation; it came to us from the real ancients.  It was they who reached the level of enlightenment; we contemporary ancients have just arrived at the age of entitlement; believe me, there is an important difference.
Two chapters before the reading you heard earlier, the Preacher, the Son of David, King in Jerusalem, had this to say:
Vanity of vanities, says the preacher, Vanity of Vanities!  All is vanity.
What does a man gain by the toil at which he toils under the sun?
A generation goes, and a generation comes.  But the earth remains forever.
The sun rises, and the sun goes down
and hastens to the place where it rises.
The wind blows to the south,
And goes round to the north; round and round goes the
Wind, and on its circuits the wind returns.
All streams run to the sea,
A man cannot utter it; the eye is not satisfied with seeing,
Nor the ear filled with hearing.
What has been will be,
And what has been done is what will be done;
And there is nothing new under the sun.
Is there a thing of which it is said, 'See, this is new?'
It has been already, in the ages before us.
There is no remembrance of former things,
Nor will there be any remembrance of later things yet to
Happen among those who come after
It is the wisdom in the teaching found in these last sections that is the hardest to appropriate and understand.  If we do not probe it to its depths, to know the tragic history of human kind, we shall be condemned, as Winston Churchill told his generation, to relive it.
That is not the most optimistic of contributions to our collective wisdom, but understanding it is essential to the maturation of our spiritual lives.  Buried dep in the message of the Preacher is yet another truth you have come to know, spiritually, if not intellectually.  It is embodied in another Biblical teaching:  You shall know the truth and the truth shall set you free.  We have done all we can to free you.  Now it is your turn to open the possibility of freedom to those who follow you.
I leave you with three benedictions.  The first from my favorite TV series, 'Hill Street Blues.' It was given in every episode by the precinct sergeant to his duty officers as they were about to go into the streets to do their duty for the citizens of their city.  I say to you, as he warned them, 'Be careful, it's a jungle out there!' I want to add, '…and take care of each other.'
The second comes from my heart:  Live long, productive lives and when you leave this world, may it be a better place because you have lived in it.
The third is from the deep well that has nourished true spirituality for centuries:
Go in peace.
And may the peace of God which passes all understanding keep your hearts and minds in the knowledge of the love that makes us one.
Goodbye, and peace and love to each of you.