The Award Winning Charles M. Schulz  musical stars young Broadway actors, at the iconic York Theater.  Directed by Michael Unger with choreography by Jennifer Paulson, Graham Kindred designed the lights.
In a rare moment, Graham was excited to share one of his projects with his twin daughters.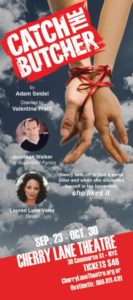 New York Times Critics' Pick, Catch the Butcher, kicked off Greenwich Village's Cherry Lane Theatre's 92nd Anniversary Season.  Directed by Valentina Fratti, Lighting Design by Graham Kindred, scenic design by Lauren Helpurn, sound design by Quentin Chiapetta and starring Lauren Luna Velez (Showtime's Dexter) and Jonathan Walker who played poetic serial killer who's latest victim liked it.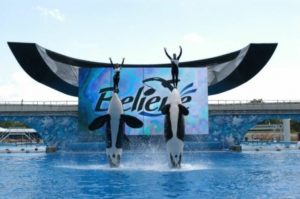 BELIEVE is the first SeaWorld Adventure Parks' killer whale show to be featured at all three parks – Orlando, San Diego and San Antonio.  Laurie worked from 2004-2006 as Project Manager for the multi-million dollar roll-out of BELIEVE, which included managing the vendor bidding process, production budget, the physical installation (4 – 10×20 moving LED screens each powered by a 5 ton chain motor, multiple live cameras including overhead and underwater, and more.  During each park's installation, Laurie served as Video Director, syncing IMAG, pre-recorded video, and photos of the audience.